How Do You Find User Generated Content?
You can't pay your users to promote your product, but there are a couple of different things you can do.
One of the easiest things you can do is simply search for brand name, the names of your products and services, or types of products you offer, on social media platforms and review websites. This will give you a list of people who mentioned your brand name and allow you to find posts and reviews that place your brand in a positive light.
Below is an example of a Facebook post that doesn't have any brand names or hashtags in the caption, but describes a product and what it does. You can find this and other posts similar to this through a quick Facebook search.
A way you can not only find, but encourage user generated content about your brand, is through user generated content campaigns. In this case, you'll ask your users for great user generated content, and offer to promote it in return.
We've gone over many examples of what user generated content could look like. Any piece of content published by a customer about a product, service, or brand that puts that organization in a positive light is an example of user generated content and customer advocacy. It could be about a laptop, sneakers, a marketing platform, or anything else people use or consume.
Let's take a look at some real-life examples of campaigns companies have put together to get more user generated content to promote their brands. You'll notice that both of these examples are of user generated content and customer advocacy.
A sunglasses company called Knockaround asked its followers to post pictures of themselves wearing their sunglasses on Instagram and include in the caption #KnockFan. Every Friday, the company's Instagram account reposts one of many images it can choose from, and all participants are entered to win a free pair of sunglasses.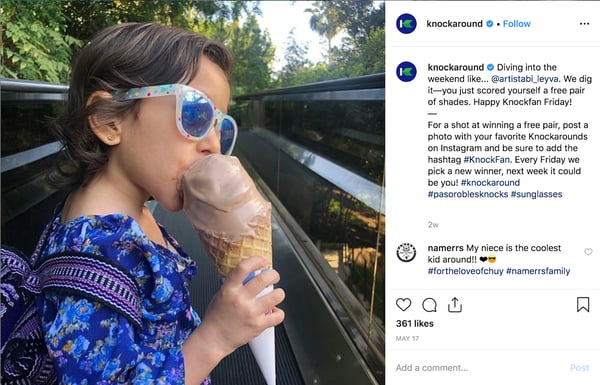 Another great example of a company getting user generated content from customer advocates is Apple's "Shot On iPhone" campaign.
One of the biggest differentiators between high-end smartphones is the camera. On older iPhone models, users have complained that the camera isn't always great in dark lighting or when trying to take a picture from a distance.
Instead of Apple just telling its customers that the newer iPhones have better cameras, or showing them pictures the brand put together, Apple decided to get the users to do the talking for them. They did this through its Shot On iPhone campaign. Apple asked iPhone users on social media to post their most impressive iPhone pictures and include in the caption #ShotOnIPhone.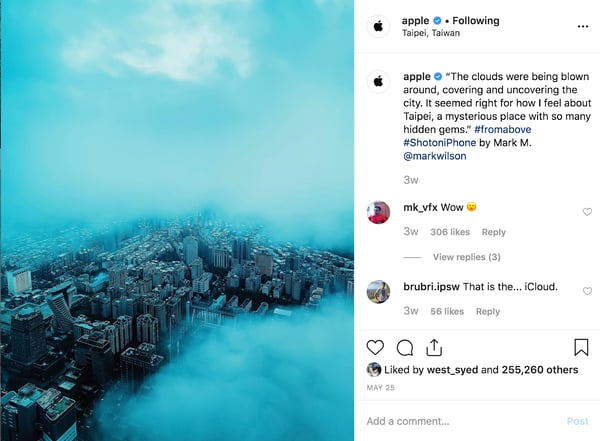 In return, Apple reposts many of these pictures on its social media accounts, but some are even turned into massive billboards on the sides of buildings in major cities. Think about that next time you post a great picture on Instagram.
There are many different types of campaigns you can do around customer advocacy and user generated content, and it works for both B2B and B2C environments. Don't forget about events either. There are a ton of different types of content former and current attendees can put together about an event you're going to throw or are currently holding.
We've covered a bunch of different ways customers play a big role in user generated content, but your employees can help you in this area in a similar way.
Best Practices of User Generated Content
Promoting user generated content is a great way to show off all the positive posts about your brand, but you have to go about it the right way.
If you see content about your brand and you want to use it or repurpose it as your own in ad for example, you have to ask for permission. This isn't just as a common courtesy. There are legal reasons attached in the form of Digital Rights Management.
The fine print of terms of service agreements on social media platforms can be overwhelming and complex to the point that most people don't even read them. But to make it simple for you, you'll want to ask permission before repurposing someone's content, such as a social post, as your own post or as an ad. After you get their permission, you can post their content as your own, but you need to give them credit in your caption.
Outside of legal ramifications, you'll want to make sure you run a user generated content campaign properly to avoid confusion from participants. Make sure you are clear on what you're looking for, and what they might get if they participate. For example, your campaign could ask people to post pictures of your product with a specific hashtag. What you'll offer in return is that you'll pick a specific number of posts on a specific date to repurpose. You may even offer a prize. Just be clear on the numbers, dates, and other specifics.