"The way I look at work is that if it makes you happy it's worth it. Working at GaggleAMP gives me a feeling of continuous personal and professional growth. We have a supportive company culture, a strong belief in the product, and amazing people to collaborate with. My contributions and opinions are very well appreciated."
Careers with GaggleAMP®
At GaggleAMP, we were the first to help organizations reach their social media goals through employee advocacy. And, while it's always nice to be first, it's also the foundation of how GaggleAMP has grown.
See, our founder and CEO, Glenn Gaudet, saw the power of an influential employee long before there was a technology to support it. And, even today, the power of employees pulses through our organization, right down to the values that drive us and the decisions we make.
It's empowering to be an employee using an employee advocacy platform. Imagine just how empowering it is to be an employee at GaggleAMP, where our ideas and creativity shine so that employee advocates can be successful.

Our Mission and Vision

GaggleAMP Vision
To humanize brands through people and their communities.

GaggleAMP Mission
We empower human connection, exchange of ideas, and engagement across digital communities.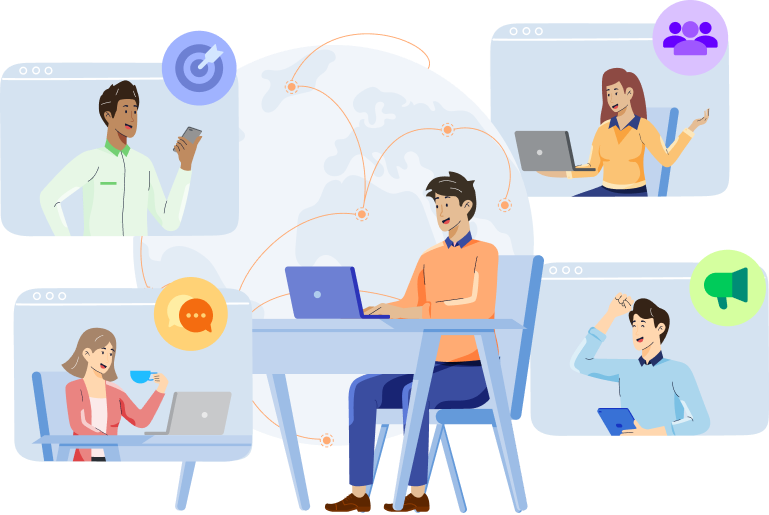 Our Values
Our values have helped us crystalize the kind of people that fit into our culture. We present these values during the hiring process and are transparent about who we are and what our expectations are. Our values help our entire staff guide our decisions and set the standard for interacting with each other, partners, prospects, and customers.

Trustworthy
Building a strong company in which we all thrive by being honest and reliable with ourselves, each other, and those we do business with.

Continuously Learn and Grow
A never-ending process of assessing and improving ourselves personally and professionally while we grow the company.

Team-Oriented
Generate camaraderie among our company, customers, and partners, enabling all to cooperate and work well together.

Coherent
Our actions create logical and consistent outcomes.

Grateful
Readiness to show appreciation for others and to return kindness.

Available Positions
We'd ❤️ to have you join us!
Position
Department
Location
Oh no! We do not have any open positions at the moment. Still want to work for us? Feel free to submit your resume to info@gaggleamp.com
and tell us how you can add value to our team. Who knows, you may be a great fit as our next future hire!

Company Benefits

Medical / Vision / Dental
There are enough things to worry about in the world, but medical benefits aren't one of them! Benefits extend to employees and their families.

Remote Employment
Work where you perform your best work. We're proud to be a 100% fully remote organization with teammates worldwide.

Unlimited Paid Time Off
A subset of one of our values is that "it's not business at all costs." We recognize that flexibility makes for a happier workplace and stand true to that with PTO when you need it, not just when you've earned it.

Company Matched 401K
You're investing in your future and so are we. We're happy to provide a 4% company match to our employees' investments.

Life & Disability Insurance
Life happens and so does protection for all of life's things. Have peace of mind knowing you have access to financial support in the event of unforeseen life events.

Flexible Spending Accounts
Set aside pre-tax dollars each year to help with medical or commuting needs for you and your family.

Classpass for Exercise Classes
Need a Pilates class? Want to try CrossFit? Great! We partner with Classpass to offer a range of perks to our employees in your local area.

Learning & Development
It's not just a value to us, it's a way of life! Take the initiative to develop new skills to excel at what you do...on us!