Roughly 30% of Marketers Plan To Start an Employee Advocacy Program
According to Social Media Today, there's almost an even split between organizations with a program (31%), organizations that don't have a program (32%), and organizations that don't have one yet but plan to start one (29%).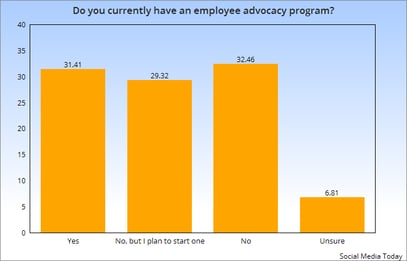 We already knew that employee advocacy is a niche market and these numbers confirm that. It's still early days for the industry, but it's rapidly growing. According to the survey respondents, the size of the industry will double, meaning employee advocacy will be more commonplace among marketers.
These employee advocacy statistics also tell us that if you have a program in place right now, it's very likely that you have an advantage over 60% of your competition. Conversely, if you don't have an employee advocacy program, 31% of your competitors currently hold this advantage over you, and up to 60% will have this advantage in the future.
This tells us a great deal about the current state of employee advocacy and the direction of the market.
Over 65% of Experienced Employee Advocacy Program Managers Say Recognition is The Most Effective Incentive To Motivate Employees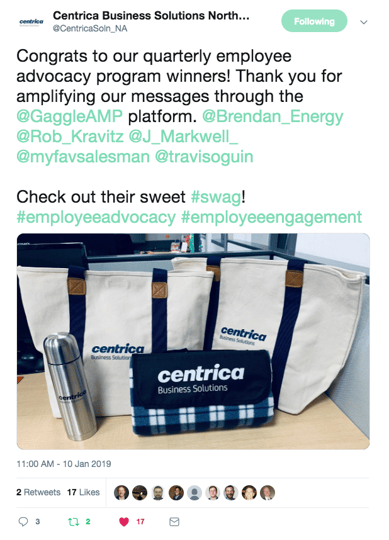 Over 65% of marketers who manage a program believe that the best way to get employees active is by acknowledging them for good performance, according to Social Media Today.
By implementing gamification into your employee advocacy program, there are many ways you can recognize an employee for being active. You can gamify your program by assigning point totals to each social media action you request of your employees, such as:
Like a post
Retweet a tweet
Follow a specific account, whether it's an analyst, influencer, journalist, etc.
Watch and like a video on YouTube
Write a review on Glassdoor
And much more
After each month, quarter, and year, you can give out awards and prizes to the people with the most points, and people who reached specific point totals. These prizes don't have to just be money and gift cards. You could give reward employees with company-branded merchandise, lunch with the CEO, more PTO, an assigned parking spot, and more. Adding prizes attracts employees to your program who aren't already involved.
Despite the possibilities, a majority of program managers believe that plain old recognition is the best motivator. You can acknowledge your employees by simply sharing the scoreboard of employees with the most points in an allotted time. When your employees see how they're doing compared to others, this will add a little competition to your program, keeping them active over the long haul.
However, 31% of respondents said that monetary incentives are the best motivator. This one is hard to argue with, but if you can't give out money to employees, there are many other awards you can work with.